Who Is RemoveArrest?
At CleanSearch, assisting people with arrest related requests is simply a way of opening the door to offering ongoing reputation services to people who have an interest in specific online presentation. It's logical, targeted promotion associated with arrest related inquires. People concerned with online arrest records, are obviously a potential client for our various CleanSearch services,
1. Promotion Publications
2. Website Optimization
3. Residual Snippet Monitoring and Removal
4. Search Engine Results Management
5. Relevance Enhancement (promoting / cretaing new associations)
Look at our page for
Case History
. CleanSearch Tech Team DESTROYED a WORLD WIDE VIRUS called "missngpage" which affected over 3 million users. Overnight we effectively broke a link in the chain and destroyed a virus affecting millions of users.
We have also been instrumental in the demise of many arrest databases! Go look, some are actually listed. We actually have managed to detour many fly-by-night start-up arrest databases by various methods. Others are simply too large and too technically advanced, too popular, too frequently listed in search results and too highly trafficked to undermine.
We did not build mugshots.com, or any other databases that charge for removal. We did not come up with the concept of publishing records online. We did not build Google, we did not program Google's algorithms to make "mugshots.com" or other public record related sites appear in results! We did not make these results some of the most popular and trafficked destinations.
As per our Terms Of Service! Archive them back for years if you like, they will say the same, thing;
We don't charge for removing arrest records or mugshots! We only charge for facilitating favorable Google results (and other engines) by removing snippets and publishing more relevant content that will 'rank' higher, and we do so at the lowest possible price for our clients.
We have been providing reputation related services since 1999, which is almost 10 years before any major arrest records database ever existed. We welcome you to try our Search Engine Results Management Services from
CleanSearch®LLC
.
About RemoveArrest:
RemoveArrest was created out of demand. RemoveArrest, from CleanSearch®, is much like a document service which assists you in obtaining a passport, birth certificate or other vital records.
CleanSearch® helps manage what search results are associated with your name-search. Due to the incredible demand for the management of online arrest records, CleanSearch® created a platform in which we can pull your arrest record from it's online source quickly. The longer a record remains online, the more chance for proliferation.
We operate a depth of proprietary internet services such as StickyPublish, HitDetective, CleanSearch® and Repularity, Algorithm Based Search Engine Management Technology. Our expertise, experience, infrastructure, know-how and wide-net of contacts allows us to offer assistance in expediting the removal of your unwanted online Search Engine results. More Frequently asked questions. CleanSearch® is the industry leader in Internet relevance association, ensuring positive search results of your name-search.
CleanSearch®LLC
Boca Raton, FL 33431
561-288-0655
877-308-3815
inquiry@removearrest.com
RemoveArrest.com Removes online mugshots, arrest records, documents, files and other unwanted public information (includes Google listing & image elimination).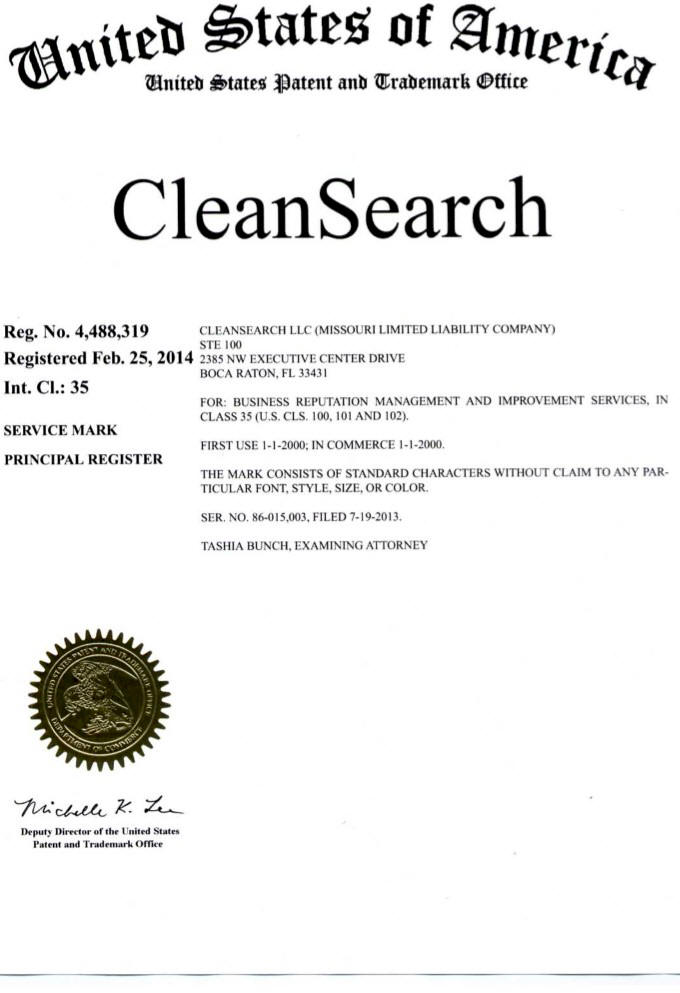 No one can beat our price and speed!



CleanSearch®
2010-2018 CleanSearch®

Tags: court+records,history,police,arrested,charged,expunged,dismissed,mugshot,internet,search,google,bing,count